Custom Re-directs, what are they?
A custom redirect is a trackable link created in Pardot, that can be placed in numerous locations such as in emails or Social media, or even on 3rd party websites, with the purpose of redirecting prospects to a particular place (ie your website), and tracking the click, we can even put a completion action on the link click too. (ill get into that later)
Whats the use case?
Having worked in numerous companies and industries over the years, with varying levels of interest and investment in marketing, ive had a wide range of experience in terms of how some companies go about it. One company I worked for was very traditional in terms of investing in Printed media and radio campaigns, and not really focusing on web traffic or email campaigns social media etc. Now for the company in question this worked, based on the customer demographic and buyer persona, but from a reporting point of view there were no real metrics on how anything was performing, other than passing comments about having heard ads on the radio or seeing an ad on the back of the Newspaper.
In steps Pardot:
Through Pardot we can create a Marketing Link or a custom re-direct, which mimics the URL for your website, and redirects prospects to your site for instance. We can track every click on this link, this is extremely useful for companies who still advertise on printed media, I had a client recently in the manufacturing industry who advertised in a catalogue for small electrical components, we were able to create a link that looked much like the companys address, but for an extra word at the start, and any clicks that came through someone manually typing in that URL into their browser, we can track and attribute any conversions from these clicks to the investment on this advertisement. Again as marketers we love that attribution word. For example if I create a custom redirect for tether it will start with www.go.tether.ie/ so it looks almost identical to a normal URL.
Here's a How To:
I use custom redirects every week for the Tether Tip, I build one out and use a variant of it on our LinkedIn Posts and Facebook, and the full version on our emails, its so simple to do, and gives us a real insight into our Social Interactions, alongside the specific link click on our emails.
Again Pardots timesaving skills come in handy, for example if you are using custom redirects on a weekly basis and not too much changes, you can copy an existing one, and just change for example the destination and the campaign name, this keeps your naming conventions and file structures on point.
Adding a completion action:
Adding a completion Action to a custom redirect is extremely useful, for instance if we were placing this custom redirect on an advertisement on a Third Party website, we could use the completion action to add the prospect to a list and give the attribution to our Advertising Campaign, this would give us some ROI information to justify any investment.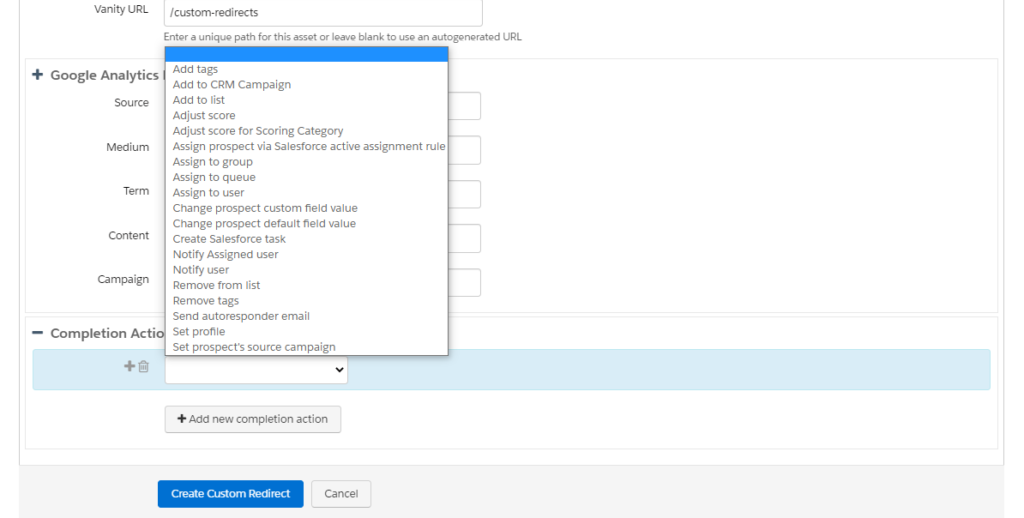 Above we can see some of the completion actions we can have take place when a prospect clicks on the link we built, we can add a score to the prospects account, add them to a list, or even send them an autoresponder email.
We also have an option of creating a Short URL, we use bit.ly for short URL generation, this comes in so handy when posting on social media as we have a limited number of characters available. This can change your https://go.tether.ie/custom-redirects, to https://bit.ly/3asO1GW, both links take you to the same place, (try it out) again really handy when every character is vital. Using custom redirects on Social media is a great way to harvest more in depth details.
To summarise, Pardot really is your marketing hub, and gives you so many avenues to get your message out to the right people, its an amazing tool, with great functionality that manages to tie in both modern digital marketing practices and traditional practices.
We will have one final tip to close out the year, but we want to wish everyone a Happy and Healthy Xmas, and were really excited for 2021, we will have guest bloggers every month sharing their knowledge and tips, and their experiences with Salesforce and Pardot,
Happy Xmas,
The Tether Team.
#marketingautomation #pardot #salesforcepardot #tethertips